I absolutely love the protective style hair bun for relaxed hair. I first started protective styling to address acne concerns but it quickly became a way of life. I was able to achieve long and healthy waist length relaxed hair with protective styling. What a bonus! Although I am no longer dealing with acne, I remain an avid protective styler. This article highlights my hair bun regimen for relaxed hair!
What is Protective Styling?
Protective styling simply means, wearing hairstyles that protect your ends. A bun is a protective style but a braid out is not. With braid outs, your ends are exposed whereas your ends are hidden and protected with a hair bun.
Hair Bun Regimen for Relaxed Hair
(1) I gather my hair where I want the bun to be and make a ponytail. Example: If I want a low bun on the left side, I will gather my hair at the bottom left and make a ponytail.
(2) I use cut up nylon stocking as my ponytail holder when I want a secure hold on my ponytail. I soak the nylon stocking in conditioner (any conditioner works) to minimize friction to the hair. Check out my DIY Headband and Ponytail Holder.
(3) I smooth the top layer of my hair by gently raking a fine tooth comb across it to get the hair to lay flat. The comb does not go beyond the top layer of hair and the raking motion is very, very gentle and not damaging to the hair whatsoever.
(4) I loosely fan my hair around in a circle to create a bun.
Hair Fun Fact: If you are new to protective styling with hair buns, you can hold your hand in the center of the pony and then fan your hair around your hand to form a bun. Your hand serves as a stabilizer to create the bun.
Use a Hair Net for Bun Neatness
I am a hair net
queen. You simply cannot forget this vital item. I place the invisible hair net over the bun to keep it looking neat because fly aways annoy me.
Good Days Hair Pins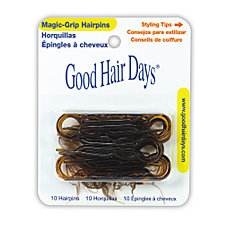 I secure the hair bun with Good Hair Days Pins which have great holding power and does not cause hair breakage like bobby pins.
Nape and Edges
My go-to edge control is Bee Mine Curly Butter because it offers a nice soft hold without drying or flaking.
Accessorize & Rock It
I sometimes add a ribbon, bow or barrette to spice up the look.

What is Your Hair Bun Regimen?
this post uses affiliate links
(Visited 2,034 times, 1 visits today)