Learning how to build a hair care regimen for relaxed hair is step one to starting your healthy hair journey for hair to thrive and achieve full potential.
What Is A Hair Regimen?
A hair regimen is a systematic plan designed to improve the health of your hair. Many shorten regimen and simply refer to it as regi. Either term works and means the exact same thing.
 Build a Hair Care Regimen for Relaxed Hair
Building a hair care regimen for relaxed hair can be difficult to master. Therefore, many adopt the regimens of other women without thought or consideration. I was once there!
Building a Regimen Through Trial and Error
I recall asking many beautiful, long-haired ladies to assess my regimen. Most kindly responded with recommendations but caveat by saying, it's about trial and error. I grew sick and tired of hearing this phrase but as I matured in my healthy hair journey, I recognized the truth of this statement. It really is about trial and error because no two heads are the same as hair responds differently to techniques and products.
Make Changes To Your Regimen Gradually
When establishing and/or revising a regimen, changes should be incorporated gradually. Don't make the mistake I did back when. I did a major overhaul grabbing this product and that product as recommended without considering and/or understanding if the recommendations were right for my hair. The end result remained the same – major hair struggles. The turning point was figuring out my hair porosity, what protein to use on my hair and what frequency to use them.
Less is More! Find a Balance.
My first documented regimen had what felt like a 50 step process and took upwards to 5 hours to complete from washing my hair to roller setting. It was ridiculous! I spent the entire day fooling with hair vs. doing other fun and/or productive things. As my skill increased, I minimized the time spent dealing with hair. Less is truly more and finding the right balance is key to all things healthy hair.
Know the Basics
Before jumping in first with using techniques of many skilled hair enthusiasts, start off with the basics. Perfect them, then move on by gradually adding other, advanced techniques. A good basic regimen for starters would include:
Cleansing (weekly or as-needed) 
Cleansing removes styling product build-up.
(1) Pre-poo
(2) Cleanse with shampoo or co-cleanser
(3) Deep Condition
(4) Style
Clarify / Chelate (once a month or as-needed) 
Clarify & chelate removes minerals and styling product build-up.
(1) Pre-poo
(2) Cleanse with clarifying / chelating shampoo
(3) Deep Condition
(4) Style
Protein Treatment (once a month or as-needed) 
Protein strengthens the hair and repairs to the strand to help it hold on to moisture.
(1) Pre-poo
(2) Cleanse (your choice of clarify/chelate; shampoo; co-cleanse)
(3) Protein treatment
(4) Deep Condition
(5) Style
Note: You can also apply protein treatments to dry hair to minimize shower time.
___________________________________
Linkup Rules:
1. Follow your host via any social platform: FB | Twitter | IG | Bloglovin'
2. Hair & Beauty is the theme.
3. Share It! Please include blog button in your post.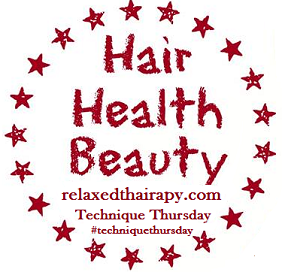 (Visited 622 times, 1 visits today)